The Super Rockies Resort is the lifelong project of architect Elene Lampropoulou, a Greek South African, who has studied the Cycladic architecture throughout her career and has an ongoing love affair with Mykonos. The resort is designed with great respect to the natural landscape, having preserved and accentuated the protected iconic rock formations.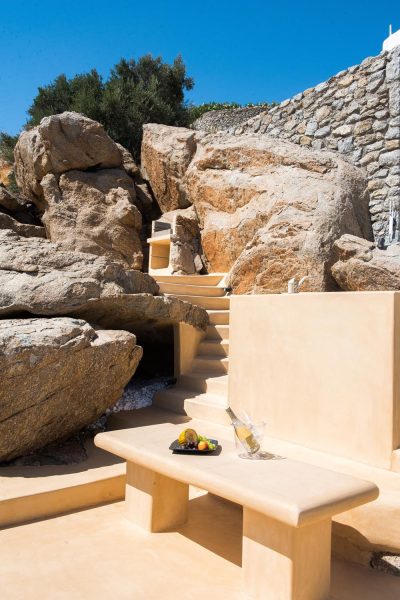 The architect chose the most prominent location in the Super Paradise Bay area, directly above the beach, protected from the strong summer winds and enjoying the maximum of afternoon sun. She has integrated outdoor spaces with the dramatic rock formations and has designed fragrant gardens with a multitude of indigenous and Mediterranean flora.
All villas have especially designed outdoor spaces for maximum enjoyment providing vistas for the overwhelming mountain and sea views, also including outdoor showers, barbeques, bars and dining areas. All outdoor areas are laid out in light grey hammered marble to contrast the natural and built elements. Cement mortar used outdoors, is coloured to blend with prevalent shades of rock colours and the sea view. Traditional elements of Mykonian Architecture have been skilfully included in an innovative manner to accommodate modern needs.
Following closely the everchanging nature of Mykonian tourism trends, this year we reconsidered the arrangement of our indoor spaces to create more spacious cool living areas which complement and enhance the exhilarating experience of our dramatically beautiful surroundings, huge outdoor recreational spaces and vistas. We have upgraded our rentals, reducing the number of guests in some units, rethinking design and functionality thus releasing extra space indoors.